Officials in China have released a major report into fatality rates for the Coronavirus.
The average fatality rate is 2.3%, but it changes significantly with age – rising to nearly 15% among those over 80 years old.
Health officials in China have released their first major report about the coronavirus which has now been officially named COVID-19. The Chinese Center for Disease Control and Prevention compiled the paper which was based on 72,314 patient records and 44,672 confirmed cases of the coronavirus in Mainland China as of February 11, 2020. Out of the total number of confirmed cases, 1,023 deaths were recorded, equating to a case fatality rate of 2.3 percent.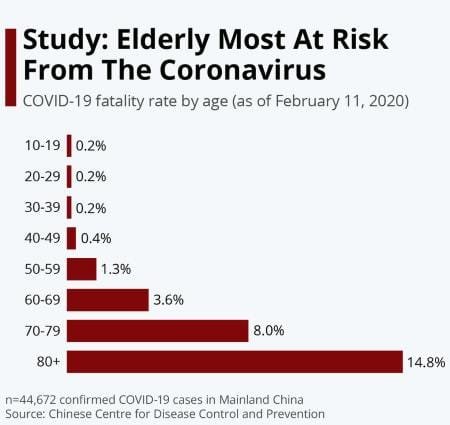 Of the five most affected countries, the share of deaths is currently highest in Iran. According to media reports it can be assumed that there is a high number of unreported cases of infected and dead people too, as the Iranian leadership is believed by some observers to be covering up the scale of the problem.
Where there are the most infected people, in mainland China, the share of cases which have led to death is currently 3.8 percent. Here, too, there could be a higher number of unreported cases. According to health experts, the prognosis depends to a large extent on whether the infected person already suffers from previous illnesses such as heart, circulatory or lung diseases. For such patients the probability of a fatal outcome is much higher.
http://www.doctorzara.com/wp-content/uploads/2020/03/coronavirus-age-ficrag.jpg
768
1024
nazimdz
http://www.doctorzara.com/wp-content/uploads/2017/10/logodz41.png
nazimdz
2017-03-05 20:43:09
2021-08-16 21:22:30
Elderly most at Risk from the Coronavirus